London to Brighton Masonic Cycle Ride – 8 July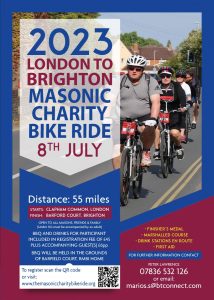 London Mark is proud to get behind its Lycra-clad members to support an initiative spearheaded by W. Bro. Marios Stylianides and W. Bro. Peter Lawrence.
On Saturday 8 July 2023 participating riders will be setting off from Clapham Common and cycling the 55 miles to Brighton, to raise money for the London Mark Benevolent Fund who in turn will be donating some of the proceeds to the Metropolitan Grand Lodge's Air Ambulance helicopter appeal.
The cycling team will be led by W. Bro. Peter Lawrence who has a track record of cycling great distances (having completed the Rockride 2 from Gibraltar to High Wycombe – a distance of 1500 miles over 14 days – as well as the Middlesex London to Brighton bike ride).
If you are feeling particularly energetic, you can sign up to participate by heading to www.themasoniccharitybikeride.org or alternatively you or your Lodge can sponsor Peter Lawrence.