Mr Dick Griffin – 'The Queens Police Officer' (Retired)  – My time as a Personal  Protection Officer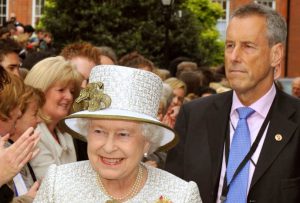 Dick Griffin served in the Metropolitan Police from 1970 to 2013 when retired at the rank of Superintendent.
From 1983 to 1986 he was the Personal Protection Officer (PPO) to The Prince Edward, and from 1986 to 1999 he was PPO to The Duke of Edinburgh. In 1999 he became PPO to Her Majesty the Queen, a position known as The Queens Police Officer, which he held until his retirement in 2013.
Her Majesty the Queen invested him with the honour of LVO, Lieutenant of the Royal Victorian Order, on his retirement.
Dear Provincial Grand Officer,
At our October 2019 annual lunch at the Imperial Hotel, Holborn, we will hear a unique and very entertaining talk from Dick Griffin on his time as a Royal Personal Protection Officer. Further details and booking instructions will be made available nearer the time.
Graham Tarran PProvDepGDC
Mess Secretary