WELCOME
TO THE MARK PROVINCE OF LONDON
Welcome to the Provincial Grand Lodge of Mark Master Masons of London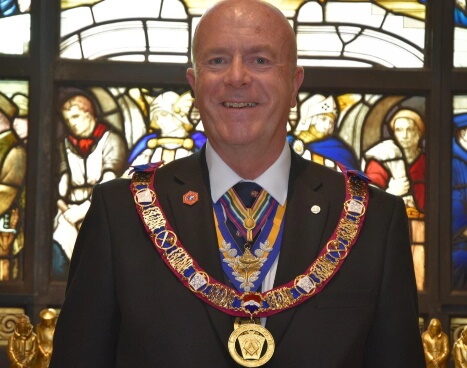 Tom Quinn
Provincial Grand Master
Welcome to the new-look website for the Mark Province of London, the largest Province of Mark and Royal Ark Mariner Lodges under the Grand Lodge of Mark Master Masons of England and Wales. Our memberships currently exceed 3,500 and our Brethren are spread over 107 Mark Lodges and 87 Royal Ark Mariner Lodges.
The vast majority of our Lodges within the Province of London meet at Mark Masons' Hall (86, St James's Street, SW1A 1PL). However, the Province also has Lodges which meet at the Civil Service Club, Mumbai Square (near Aldgate), Armoury House (the Honorable Artillery Company's HQ), the West London Masonic Centre (Ealing), the Southgate Masonic Centre, Duke Street, St James's, Furniture Makers' Hall in the City, the Union Jack Club (near Waterloo station) and the Water Rats public house (near King's Cross station). So there's plenty of variety to choose from!
In keeping with the Order's nickname of the "friendly" Degree or "fun" Degree, the Province holds regular social events – some for members only, many for members and their family. For example, every year 200 or so members and guests gather in Bournemouth for the Burns Weekend. There's an End of Year Party, trips to the Tower of London to see the Ceremony of the Keys, golf days, gourmet nights, and so on.
If you would like to know more about the Mark Degree, there is an informative video produced by Grand Lodge which can be viewed here. You can also the Contact Us facility of this website to get in touch.
There is now a secure Members' Area, which contains a wealth of information for Secretaries, Treasurers and members alike. Please do request a log-in and have a browse.
I look forward to meeting and seeing you all at our social functions and on the circuit in general at Mark Masons' Hall and elsewhere around this wonderful, vibrant Province of London.