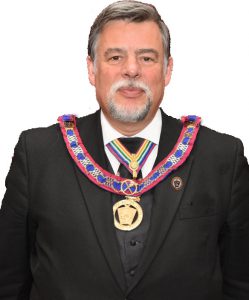 Born in South London, Cliff spent his teenage years in Somerset before returning to London to read Physics at Imperial College. He graduated with a 2:1 and an Associateship of the Royal College of Science. Moving into the world of Intellectual Property, Cliff soon qualified as a Chartered Patent Agent (European Patent Attorney) and subsequently established his own Practice in central London.
He is well known in his office as Secretary of Mark Lodge No.1, the first Warranted Lodge in England. He is also Treasurer of Mark Lodge No.2; officially recognised as the oldest Mark Lodge in the World.
His enthusiasm is no less diminished when it comes to support for the Mark Province of London. Cliff has been a keen member of Provincial Delegations since his first Appointment as PPAGDC and especially enjoyed being a member of the Full Team Visits, first as ProvSD and subsequently as ProvGMO and latterly as ProvGSW.
Cliff worked behind the scenes in relation to Provincial Events and currently devotes a fair amount of his time to the task of Provincial WebMaster and email Tsar. After serving a year as ProvGSW, his appointment as APGM is a direct recognition of the support and dedication he gives to this Province and has done over many years.