London Mark Golf Day goes with a swing!
At long last – and after an almost 2 year wait due to Covid – the London Mark Golf Day finally tee'd off on 16 September 2021.
Forty-three players took to the fairways to do battle for the prestigious trophies for teams and individuals. The field was somewhat reduced compared to 2019, but those that played did their best to ensure a smooth and enjoyable day. The weather was kind to us and produced conditions most suitable for golf.
Shock, horror! The Cat Protection ladies as usual manned a sumptuous table of homemade food at the back of the 10th tee, however, it was discovered that the world champion scotch egg maker (Alison) was on holiday – but fear ye not, a new champion was discovered and her scotch eggs were devoured with alacrity!
On completion of the golf we were joined by our Provincial Grand Master, R. W. Bro. Tom Quinn, and guests from the Woking Cats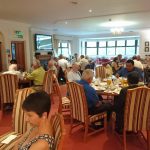 Protection Society and private guests making a total of 57 – all of whom enjoyed an excellent carvery with us. As usual, the second course was cakes and fruit salad supplied and served by Vanda Ashbolt and Gerry Gangadeen.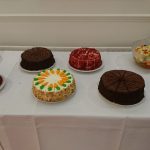 Prizes were presented by R. W. Bro. Tom Quinn to the individual winner, Ravi Patel, from Cliff Powell and Raj Rajkuma. Team winners were Pinewood Pussycats, comprising David Ashbolt, Tim McAndrews, Wes Hollands and Cliff Powell – with Badgers and Public Schools second and third.
The Ladies Trophy went to Sue Ford with Liz Pemble runner-up.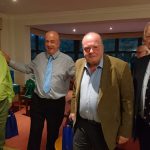 Par 3 winner was Wes "Pedro" Hollands by a clear margin. Longest drive went to Steve Roberts and nearest the pin went to Bob Roberts.
There then followed an auction of a four ball at Chobham Golf Club and a raffle drawn from the prizes, so gratefully provided by the contestants.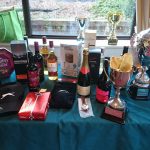 David Ashbolt then thanked all those present their patience and most importantly their generosity, for although the field was lower than the last golf day we raised a little bit more, and he was able to present a cheque for £800 to David Nunn of the Woking Cats Protection Society, and a further £632 to Tom Quinn for the Mark Benevolent Fund.
Write-up by Alan Wakeford
Photos by Alan Wakeford and Hiko Tanaka