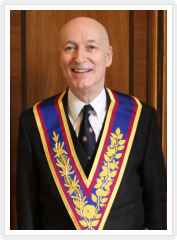 Organization: 
Provincial Grand Lodge of Mark Master Masons of London
For most of his working life, Mike has been an actor, journalist, broadcaster and media consultant.
He attended Drama School and spent a number of years acting in the theatre, television and some films, as well as turning his hand to writing a couple of plays and many comedy sketches.
He then turned his attention to journalism and other areas of the media, after training through the NUJ and on the job from old school journalists and sub editors, who demanded a high level of skill and competency.
He began freelancing as a journalist, both in the areas of writing and broadcasting working for various newspapers, magazines and broadcasting companies, including the BBC, circumnavigating the world many times reporting from numerous diverse locations, before he was appointed News and Sports Editor, then Editor of LBC Radio/Independent Radio News.
During this time Mike also became the UK representative at the European Broadcasting Union in Geneva, Switzerland. In April 1992, he was asked to help set up a national news service in English and to assist in formulating programmes at the ORF in Vienna (the Austrian equivalent of the BBC).
Mike stayed in Vienna for four years and then returned to the UK to take up a consultancy contract at the Central Office of Information in London (the second time that he had to sign the Official Secrets Act), formulating policy information for the Government's overseas radio and television service.
New technology beckoned and in 1998 he became Deputy Editor of UK Plus (a website owned by Associated Newspapers).
After a few years, Mike began freelancing again at various media outlets. He then had an enjoyable time travelling back and forth from Europe producing on site Champions League football output for ITV, Input Video and the American company ESPN, as well as running his own PR and Marketing Consultancy.
Mike has also indulged in speech writing and has notched up a few well known names as clients.
He was Editor of the Masonic quarterly magazine The Square for two years,
re-launching it in its present A4 format.
Although Mike had been approached about Freemasonry before it was not until January 1992 that he said yes and was Initiated into Maguncor Lodge No. 3806.
The Maguncor family comprises Craft, Royal Arch, Mark and Rose Croix. Mike is Director of Ceremonies of both the Craft and Mark Lodges and Scribe Ezra of the Royal Arch Chapter. The Rose Croix Chapter meets in Lincolnshire but Mike is intending to become a joining member there. Mike is also a member of various other Lodges and Orders.
Mike had the pleasure of Initiating his elder son into Freemasonry five years ago and since then he has Passed, Raised and Exalted him into the Royal Arch. In July, Mike will Advance him into the Mark.
Mike still gets the odd acting job and he is still a freelance journalist and editor.
He has reported from three Olympic Games and this year at London 2012 he is part of a liaison committee helping foreign media.
Mike is a member of Equity, National Union of Journalists, Sports Journalists' Association, the Association International de la Presse Sportive, the Variety Club, the London Press Club and the Savage Club.