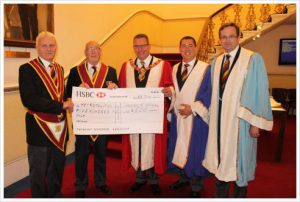 A brand new Cryptic unit for Metropolitan Craft and Chapter Members! This new Council will be styled "Metropolitan Royal and Select Council" and will meet twice a year and dine at Mark Masons' Hall.
The Thrice Illustrious Master elect will be none other than the Mark PGM RW. Bro. David Fredrick Ashbolt and he would welcome support from co-founders.
Are you a Metropolitan Mason, a member of the Mark and are already a lover of our beautiful Cryptic Degrees?
If you would like to become a Founder of this exciting new Council then you can register your interest by contacting the District Grand Master, R. Ill. Companion Vincent Driver on vjdriver@btclick.com
Full details will follow in due course but do spread the word and tell your Companions about this latest and special addition to our family of Masonic Orders to be established in London!
If this exciting New Council is of interest to you please drop the founding Recorder Ill. Companion Jules Greenwall an email at jules@greenwall.net