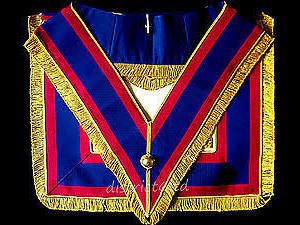 Many Brethren have been promoted in Provincial Rank and been appointed or promoted in Grand Rank at meetings during the summer – and it is to them that this message is particularly directed.
These Brethren may like to know that there is a WAITING LIST of Brethren who are looking for regalia for their new ranks.
If you have any Provincial or Grand Rank regalia for Mark or Royal Ark Mariner that you no longer need, please consider having it listed in the London Mark Regalia Exchange.
Use the form that can be found at the back of the London Mark Yearbook or click this link to tell the organiser, V. W. Bro. MC Black what you wish to sell.
Post him the form with a self addressed prepaid envelope. He will then send you a copy of the listing so you can check for accuracy.
There is  NO CHARGE for using the Regalia Exchange;  the only cost to brethren is  a couple of stamps (for both buyers and sellers).  Many sellers decide to donate that money to a charity of his choice.
In the case of deceased Brethren, it's suggested that the Lodge Secretary or Almoner acts as the Widow's agent since they are more likely to know what the regalia is worth!
Please direct any enquiries to V. W. Bro. MC Black on  Regalia@hardknott.org.