WBro Geoff Aldridge – Bon Accord's tribute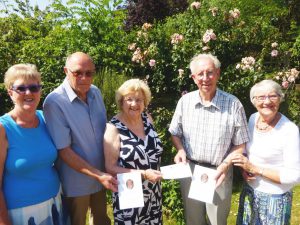 After the sudden passing of Geoff Aldridge who was a much loved and respected member of Bon Accord Lodge TI and his subsequent funeral on 17th July. The Lodge turned out to pay their respects with a representation of 19 members.
Whilst the family requested no flowers, Hilary requested donations for the hospice that looked after Geoff so well in his final days (the Florence Nightingale Hospice), The Lodge took an immediate decision to make a contribution. Just over a week later, on the 25th July, Chris and Jill Baker and Andy and Sheila Rapley, made the official presentation to Geoff's widow, Hilary, of a cheque for £1000 on behalf of all the members of Bon Accord. This as a fitting contribution to the memory of such a great Mark Mason.
Geoff was the Secretary of BA for many years and was the driving force in getting Advancees, mainly from Grenadiers Craft Lodge where he was also Secretary. He was one of the main influences behind the increase in attendees at the Burns weekend. On one occasion 26 attended from BA. He was as charismatic in getting support for the Provincial meeting where his drive and enthusiasm meant BA taking 3 tables, likewise his support at other Provincial functions. He will be sadly missed but the Nightingale Hospice and all his friends and family will always remember him with great affection.